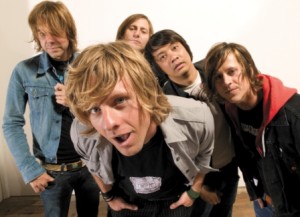 We had the pleasure to sit down with Chad Butler from the rock band Switchfoot.  Hailing from San Diego, California, Switchfoot is comprised of Jon Foreman (vocals, guitar), Tim Foreman (bass guitar, backing vocals), Chad Butler (drums, percussion), Jerome Fontamillas (guitar, keyboards, backing vocals), and Drew Shirley (guitar).
Switchfoot first gained mainstream recognition after the inclusion of four of their songs in the 2002 movie A Walk to Remember. This recognition led to their major label debut, The Beautiful Letdown, which was released in 2003. It went on to sell over 2.6 million copies and produced the band's best-known singles, "Meant to Live" and "Dare You to Move."
Prior to the label split, Foreman announced in a March 17, 2007 MySpace blog that Switchfoot had begun pre-production for a new album, saying that "the new SF record is underway." Later, on October 12, 2007, Foreman also announced that the band had begun construction of their own studio in their hometown of San Diego. It was completed in the spring of 2008, and the band began recording their follow-up to 2006's Oh! Gravity.
Glenn: So, Chad…you guys just got off tour. How did that go?
Chad: Amazing! We just went down to Central America for the first time, to Guatemala and Costa Rica. Great people singing along at the shows and good waves too! Can't wait to go back…
Glenn: How many months a year do you guys tour?
Chad: 12 really… we tend to go out for a few weeks then come home for a few and work on music. We're constantly recording in between live shows, it keeps us on our toes and allows us to try out new songs on the road.
Glenn: What kind of touring crew do you have?
Chad: They are really big men, linebackers for sure! Keeping us safe and in tune!
Glenn: What kind of FOH [front of house] gear do you travel with?
Chad: Yamaha PM5D I think, but our FOH guy Ryan Nichols is our secret weapon… he's the best there is.
Glenn: You guys went double platinum on "The Beautiful Letdown". Did that put any pressure on the new album to raise the bar?
Chad: Looking at the numbers can drive you crazy, we try to leave that to the suits and ties. For me music is about communication, having a dialogue through songs is what really motivates me. I am thankful we are making the best music of our lives right now. Art and commerce is a tricky intersection but the goal for us has always been honest music.
Glenn: You guys are known for your high quality song writing. What's the process usually like? Is song writing pretty cooperative?
Chad: Jon usually brings us an idea on acoustic guitar and if it's an idea that resonates with all of us we dream it up into something larger. The amazing thing to me about music is that the most personal songs end up being the most universal. A song that was written at 3am trying to figure out the meaning of life can make it's way around the world and somehow people are singing along with us in Guatemala!!?
Glenn: You guys just finished building a new studio and recorded the new album there. What's the set up like?
Chad: We are living our dream right now, we finally have our own place to rehearse and record. It's a simple building we converted into a tracking room but the goal was to make a great record while being at home as much as possible (not to build an uber-pro studio).
Glenn: How did you go about building and designing the acoustics of the room?
Chad: We basically divided up the space into a good sized control room and a large tracking room with 18′ ceilings. We offset some angled walls where possible and tried to use wood paneling on many of the walls. Our control room was the hardest part because it had a low ceiling, concrete floors and one concrete wall. We built within that space as economically as possible by leaving the ceiling beams open and just staining the concrete floors. Not really knowing what the room was going to sound like we went with a modular GIK acoustic treatment using GIK Tri-Traps in the corners, 244 Bass Traps and 242 Acoustic Panels. Bryan Pape [lead acoustic designer at GIK] helped us plan where to put everything and get the most out of our budget.
Glenn: What are the pros and cons for working in your own space vs. a commercial place?
Chad: The pros are coming home from tour and being able to walk in and hit record, everything is right where you left it. The cons are taking out the trash and running out of coffee.
Glenn: With the way the room acoustics are, is it an inspiring place to work?
Chad: I really like the look of the panels, we went with black and it looks like some kind of modern art installation about negative space.
Glenn: Switchfoot is instantly recognizable for the huge guitar sounds, the massive drums and Jon's distinctive vocal. What's the most important part of getting those sounds?
Chad: We have always tried to capture the live energy we feel on stage. That is difficult but leaving things loose helps and keeping the human element in the performance is important.
Glenn: Got any gear you can't live without?
Chad: My Tama bell brass snare.
Glenn: What kind of advice would you give to new bands that are trying to break into the market?
Chad: Enjoy each moment making music, enjoy each other. Life is short live it well!
For the latest news about the band visit Switchfoot official website.