Earthwool are resilient, non-combustible rock mineral wool slabs.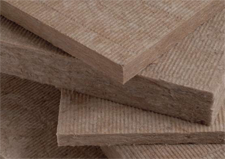 Because of it's density and rigidity, the 45 kg/m3 Knauf Insulation Earthwool with ECOSE® Technology is ideal for making thicker panels. It can also be used to fill corners to make bass traps. It's easier to cut than 60 kg/m3 and as with all ECOSE® products, it's environmentally friendly.
Perfect for Do-It-Yourself bass traps and acoustic panels, Knauf Insulation Earthwool is a 45 kg/m3 thermal and acoustical insulation product made from inorganic mineral wool preformed into boards with ECOSE® Technology.
Earthwool with ECOSE® Technology 45kg/m3 Features and Benefits
Product Dimensions
Each sheet is 1200mm x 600mm x 50mm.
Mineral wool insulation made with ECOSE® Technology is:
Produced using a Formaldehyde-free binder
Odourless
Less dusty
Easy to cut
Soft to handle
Naturally brown in colour as no dyes or artificial colours are added
Fire
Earthwool Building Slabs are classified as Euroclass A1 to BS EN 13501-1. Earthwool Building Slabs are classified as Euroclass A1 to BS EN ISO 13505-1, non-combustible to BS 476:Part 4:1970 (1984) and, Class 1 Surface Spread of Flame to BS 476:Part 7:1997 and Class 'O' to the Building Regulations.

Environmental
Earthwool insulation sheets represent no known threat to the environment and have zero Ozone Depletion Potential and zero Global Warming Potential.
Knauf Insulation has launched the revolutionary new mineral wool, which reduces the product's embodied energy and delivers superior environmental sustainability using patented ECOSE® Technology. With mineral wool insulation already considered the best performing insulation in terms of low environmental impact, this development extends the leading position of mineral wool as the insulation product of the future.
Knauf Insulation mineral wool products with ECOSE® Technology benefit from a natural, formaldehyde-free binder made from rapidly renewable organic materials instead of petroleum-based chemicals. The technology has been developed for Knauf Insulation's glass and rock mineral wool products, enhancing their environmental credentials without affecting the thermal, acoustic or fire performance.
The ECOSE® Technology binder is up to 70% less energy intensive than traditional oil based binders. With Knauf Insulation mineral wool products containing high recycled and renewable content, this contributes to an already superior performance when it comes to embodied energy. Insulation products made with ECOSE® Technology contain no dye and artificial colours – the colour is completely natural.
When Knauf introduced the revolutionary ECOSE® Technology the impact was felt. Quite literally. Odourless, supersoft and easy to cut, mineral wool insulation manufactured with ECOSE® Technology simply feels so much better than traditional mineral wool insulation. Innovative insulation technology that's good for the environment. Great to work with too!