Product Description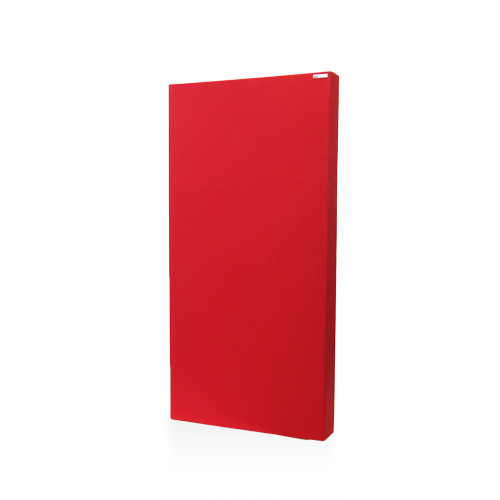 Overview
Our GIK Acoustics Spot panels are designed to solve a variety of issues: mainly to control noise, eliminate slap echo and control comb filtering in a room.  Knowing that every room has it's own size and shape, we have our line of variable size Spot panels which can be custom sized to the specifications to fit your space.
Perfect for offices, lecture halls, restaurants, home theaters, and sanctuaries.
Specs
Rigid rock mineral wool provides twice the low end absorption over similar foam-based products.
Square/Narrow = 1.8kgs
Rectangle = 3.6kgs
1.05 (versus foam products where NRC = 0.4)
Square 600mm x 600mm
Rectangle 600mm x 1200mm
Narrow 300mm x 1200mm
Custom sizes up to 244cm x 122cm
The Spot panel is easily mounted on wall using sawtooth picture hanger (included)
Stylish for business or home decor.
Suspending: See our product for acoustic drop ceiling tiles that fit into a standard grid for dropped ceilings or can be suspended from a solid ceiling structure.
Open back allows absorption of lower frequencies when installed with an air gap
Can add custom art to create an ArtPanel
The Spot panel is an excellent option for environments such as offices, restaurants and schools for controlling ambient noise.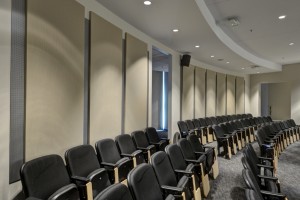 The flexibility of the The Spot Panel means you can arrange them in stylish designs and patterns.  The result is not only an attractive look, but The Spot Panels also have an effective impact on the acoustics of your space.  For an audio example of a treated room, click HERE.
There are tremendous benefits for treating a room acoustically. Sound expert Julian Treasure explains, "Because of poor acoustics, students in classrooms miss 50 percent of what their teachers say and patients in hospitals have trouble sleeping because they continually feel stressed."  The average noise level in classrooms is 65dB.  By installing acoustic treatments, that level can be brought down to a healthier threshold.</p