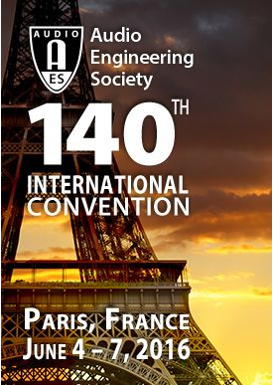 GIK Acoustics is proud to exhibit at the 140th International Audio Engineering Society Convention at the Palais des Congrès in Paris, 4 – 7 June, 2016.
Visit Us In Booth 50 at AES
We'll have several items from our Alpha Series on display. The Alpha Series is changing the face of acoustic panels and bass traps by beautifully combining absorption with diffusion. With the Alpha Series, customers can enhance any room both aesthetically and acoustically with superior quality, high-performing, stylish acoustic panels and bass traps.
GIK Acoustics-Europe Lead Designer, Lukas Rimbach, will present a discussion on the importance of room treatments and the basics of room setup. Seminars are scheduled for Sunday 5 June, Monday 6 June, and Tuesday 7 June at 2:00PM on the show floor.
FREE "Exhibits Plus" Badge
To attend 140th AES Convention, use the GIK Acoustics online "Exhibits-Plus" registration Link/Code:
https://secure.aes.org/events/140/registration.cfm?type=vip&vip=1435
The Exhibits-Plus badge is a Free ticket to getting into the AES Exhibition – Europe's largest collection of professional audio manufacturers exhibiting their products and latest technologies. This badge is good for the Exhibition PLUS all Special Events and the Professional Sound Expo.

About AES Paris
The 140th International AES Convention — Europe's largest gathering of audio professionals from around the globe — is slated for June 4-7 at Paris' Palais des Congrès. From cutting edge research to fundamentals to practical application, the four-day technical program brings the opportunity to network with and learn from leading audio industry luminaries. Special events — including technical tours of premier production facilities and installs, student focused sessions and a 3 day manufacturer exposition round out the Convention.