CREATING BIGGER SOUND IN ALL DIRECTIONS
BRADFORD, UK (September 11, 2014) – GIK Acoustics-Europe has announced the introduction of the FlexFusor Panel – a fabric covered diffusor that offers one- or two-dimensional scattering. Many diffusors offer one-dimensional scattering, but often two-dimensional is needed. Now customers have a choice with the GIK Acoustics FlexFusor Panel.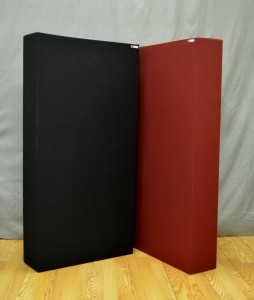 The FlexFusor is a fabric covered diffusor. Visually the FlexFusor resembles our Monster Bass Trap, but is designed with a sturdy 17-root EPS core diffusor that begins scattering at approx 600 Hz and offers effective and even diffusion up through 7.5 kHz.
Customers can choose between alternating or vertical orientation.
Alternating – This option allows scattering in two directions. By alternating the diffusor core, the FlexFusor allows sound to not only spread side to side but also up and down to create two-dimensional diffusion.
Vertical – This option provides effective EVEN diffusion in one direction.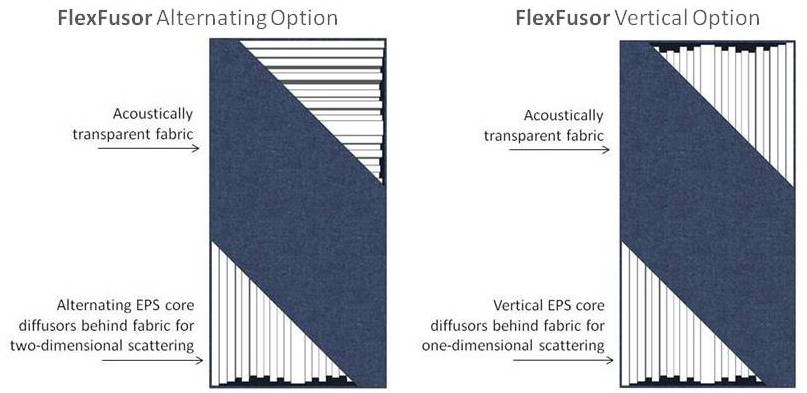 GIK Acoustics-Europe General Manager David Shevyn said, "Our customers have made us aware that they would like to see our successful line of diffusors expand to include a variety of colour options as well as directional scattering options. Hence we are introducing the FlexFusor, which not only provides a preference of one- or two-dimensional scattering, but also allows customers to select any one of our 70 colour options. FlexFusors can even be made as an ArtPanel, so the possibilities are endless."
GIK President Glenn Kuras added, "We developed the FlexFusor as an option for customers who need flexibility in the acoustic solutions for their space. The Alternating Option redirects sound not only to the side walls, but to the ceiling and floor; which is a great option in a live room or for control rooms. The Vertical Option provides quality, even diffusion that our customers have come to expect from GIK Acoustics. And as the FlexFusor is fabric-covered, our customers have more options as to the finish of their panels. And we're offering them at an outstanding value."
For FlexFusor Diffusor pricing and features, visit the product page:
English https://gikacoustics.net/product/gik-acoustics-flexfusor-diffusor/
German http://gikacoustics.de/produkte/gik-acoustics-flexfusor-diffusor/
French http://gikacoustics.fr/produits/flexfusor-diffuseur/