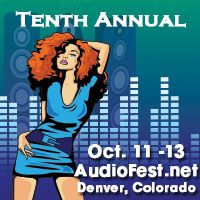 This year marked the tenth annual Rocky Mountain Audio Fest in Denver and again GIK Acoustics was there.  As in years past, we teamed up with Klaus Bunge and Alex Gonzales of Odyssey Audio for both an exhibitor's demo room and a booth.  We also partnered with Ryan Scott of Vapor Audio to treat their supersize space where they debuted two new systems.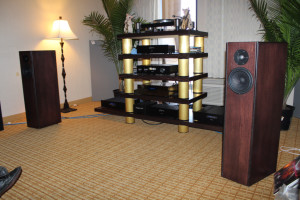 Odyssey Audio / GIK Acoustics (Rm. 9000) – We treated the demo room with two Soffit Bass Traps positioned in the back corners, four GIK Scopus T40 Bass Traps with Q7d Diffusors stacked on top at the first reflection points, two Tri-Trap Corner Bass Traps in the front corners and two Monster Bass Traps (one with a Scatter Plate and one with FRT) on the back wall.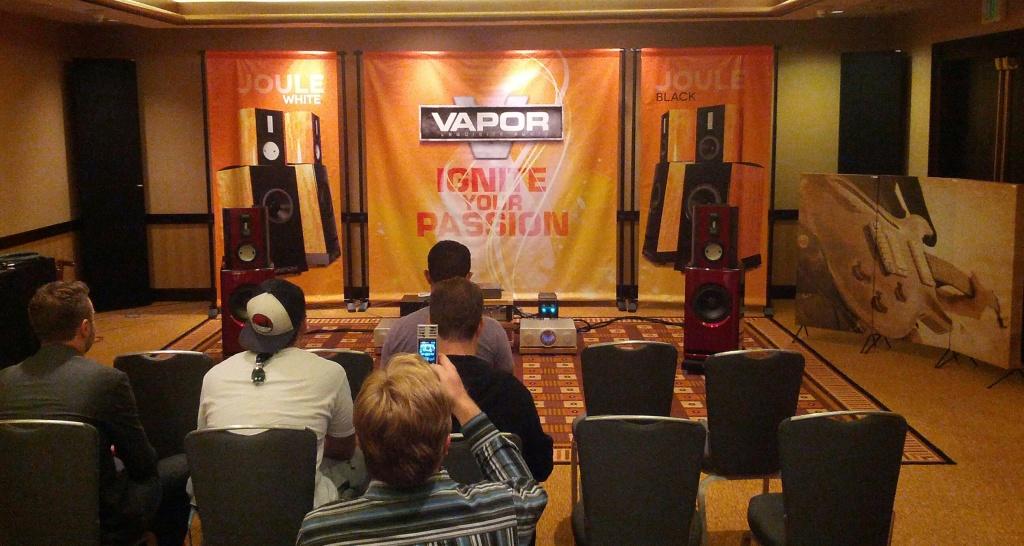 Vapor Audio / Empirical Audio / Antipodes Audio Limited / Arte Forma INC / GIK Acoustics (Hyatt Mesa Verde) – this massive space (two banquet rooms) housed both the Nimbus and Joule systems from Vapor Audio. We stacked Tri-Traps in two corners, stacked Scopus T40 Bass Traps in the other two corners, placed QRD Diffusors in the early reflection points and ArtPanels to the side for display and for reflection off exit doors.
Again, the results were impressive and earned top marks (Absolute Best of the Best in Show and Best of RMAF Runner Up (tie)) from the guys at AudioCircle. Excerpts are below or read the full recap here.
Pez's Picks:
Odyssey, GIK (3 Stars) – Two years running this system was inspired. Last year I distinctly remember the emotional response I had in this room. It was strong, it was vivid, it was awesome. This year I had the same response. Yet the system was actually BETTER than last year. Soulful, dynamic as hell and just plain great. Klaus, Alex, Alex (no that's not a typo), Brian, Glenn, Shelly are amongst my favorite people at the show. Such a CRAZY eclectic brilliant and hilarious group of people really fun to be around! Out of any system on this list the Odyssey/GIK room offers the best performance for the dollar bar none. Odyssey will sell these towers like hot cakes.
Vapor Audio, Empirical, Antipodes, GIK (Best of the Best in Show) – When I first walked in to the Vapor room and saw this setup I had… jaw to the floor reaction when seeing this masterfully crafted gear.  Much to my surprise when we sat down and listened to the system my jaw remained on the floor. I loved that SET sound. I have never heard it sound so big and so rich. HUGE imaging incredible soundstage. As Ted_b put it 'larger than life' and I loved it. Ryan does incredible work and clearly has vision for not only what state of the art is, but where state of the art should be. Ryan, GIK crew, and all the rest; Congratulations, you have managed to put something together that was special, well thought out and well executed.
Tyson's Picks:
GIK Acoustics (Special Mention) – I've said it before and I'll say it again.  These guys are the Rolls Royce of room treatments.  Not only is their equipment better and more comprehensive than anyone else's, it is also the most beautiful.  The art panels and the diffuser panels are particularly impressive and can be proudly hung on the wall of any home.  And that would be enough.  But it's not all.  With GIK you also get expert customer service and technical advice on how to best use the treatments.  Room acoustics can be intimidating.  These guys make it easy and painless.
Vapor Nimbus (Best of RMAF Runner Up (tie)) – Last year the Vapor room was great.  This year they took it all the way to the top.  Just like TAD, the only reason I only don't give them the highest ranking is they don't have a warm tonal balance which I prefer.  But make no mistake, these are not analytical speakers, at all.  Dead on neutral is more like it.  Compared to the TAD room, they were equal in transparency and detail, almost as good at dynamics, and better at soundstaging and imaging.  Oh, and no surprise that yet another top performing room has room treatments.  In this case, THE BEST room treatments – GIK.
Odyssey Audio (Best of RMAF Runner Up (tie)) – Last year Odyssey got our best at RMAF, and this year they were even better!    So how did they slip back a bit in the rankings this year?  Because it's a moving target, and other vendors improved their rooms even MORE compared to last year.  On the other hand, I should point out that the entire Odyssey system costs less than a pair of cables in some of these other rooms.  Yes, I am not exaggerating.  Don't mortgage your house, don't  sell your children, don't harvest your body for organs to sell on the black market.  Just get the Odyssey gear and enjoy musical bliss alongside financial security!