COVERING THE BASICS
GIK Acoustics will exhibit at the HIGH END Show in Munich from 9th to 12th of May 2019.
Location: MOC München
Lilienthalallee 40
80939 München, Germany
Visit us Hall 2 Booth F06
ENTER TO WIN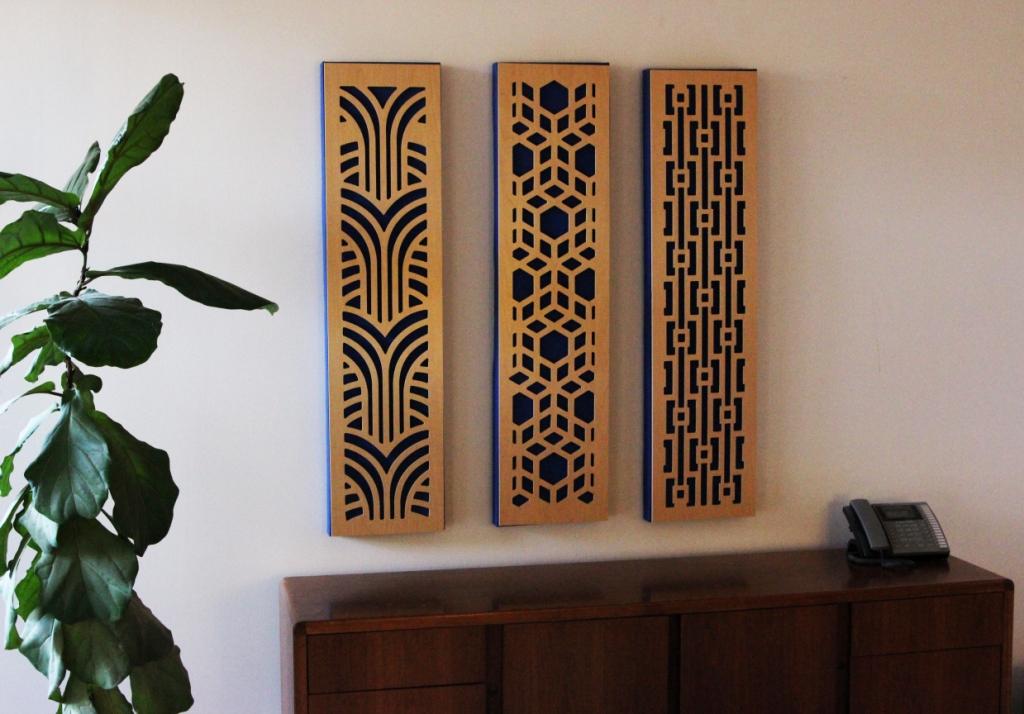 This year we're adding a little fun by offering a prize giveaway for a chance to win a pair of 50mm Impression Series panels, rectangle (600mm x 1200mm). The Impression Series is ideal for creating an even balance of low end absorption without losing high frequency presence. The Impression Series features beautifully decorative, semi-reflective rigid plates attached to absorptive acoustic panels and bass traps. The rigid plate not only gives the panel a stylish appearance but also helps reflect/scatter high frequency content in your room giving the proper balance needed.
One lucky winner will choose his/her pattern, plate finish, and fabric. The (base) prize value is £125.00
In addition to signing up for the contest, everyone who comes by our display booth can sign up for a 10% discount toward their next order.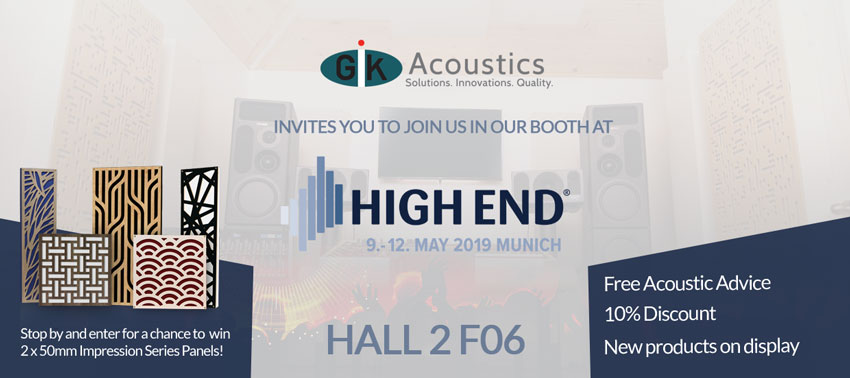 ---
EDUCATIONAL SERIES
GIK Acoustics-Europe Lead Designer Lukas Rimbach will present a discussion on the importance of room treatments with a special focus on dealing with low frequencies. Mr. Rimbach will also answer audience questions on room acoustics.
HIGH END lectures take place at the Technology Stage in Room K2A – Foyer Hall 1
Room Acoustics And Tackling the Low End
Saturday, 11th of May 2019:                     10:00am – 10:45am
Speaker: Lukas Rimbach   |   Language: German
Technology Stage is open for all visitors of the HIGH END show. You don't have to register – it's first come, first serve. Usually there are enough seats for all listeners.
---
About HIGH END Munich:
9. – 12. MAY 2019
The MOC in Munich hosts the HIGH END, a well-known, popular and successful specialist trade fair which sets the tone in Europe in the truest sense of the expression. Some consider it to be the definitive source of audiophiles inspiration. Others see it as a business date of the highest priority. And both are right.
Opening hours
Thursday 9am to 7pm
Friday 10am to 6pm
Saturday 10am to 6pm
Sunday 10am to 4pm
1st day only open for trade visitors with pre-registration
Trade visitors:
Trade visitor ticket with pre-registration: only 25.00 EUR
Trade visitor ticket locally: 40.00 EUR
Visitors:
Visitor day ticket Friday or Saturday: 15.00 EUR / day
Visitor day ticket Sunday: 5.00 EUR / day
Visitor 3-Day ticket: Friday to Sunday: 25.00 EUR