Making an Impression at Prolight + Sound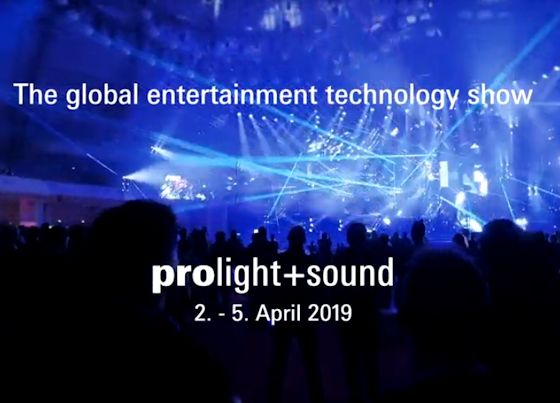 For the sixth year in a row, GIK Acoustics-Europe will exhibit at Musikmesse 2019 from 2 – 5 April. Musikmesse in Frankfurt am Main is the world's most important fair for musical instruments, sheet music, music production, and music business connections. During the four days manufacturers and dealers, as well as professional, semi-professional and lay musicians get together and find out about the latest products.
Studio Forum
GIK Acoustics will once again present our popular seminars on Room Acoustics and How to Set Up Your Room at ProLight + Sound / Musikmesse. There will be two seminars daily Tuesday, Wednesday, and Thursday.
13.00 – 14.00 Lukas Rimbach Manager of Customer Service for Europe will present in German
16.00 – 17.00 David Shevyn General Manger Europe will present in English
The Seminars will take place at the Congress Centre at Messe.
Visit GIK Acoustics in Hall 8.0 Booth J47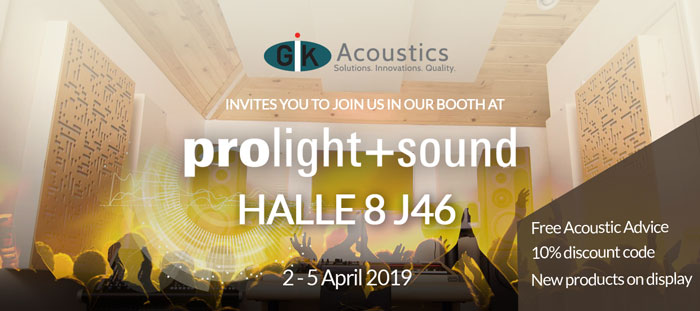 We are thrilled to offer Prolight + Sound attendees an up close and personal look at the Impression Series and Alpha Series panels. Both the Impression Series and Alpha Series are ideal for creating an even balance of low end absorption without losing high frequency presence. The Impression Series features beautifully decorative, semi-reflective rigid plates attached to absorptive acoustic panels and bass traps. The Alpha Series plate incorporates a mathematical sequence of slots for spatial diffusion, but also allows low frequency waves to pass through to the rock mineral wool panel for low end absorption.
Prolight + Sound attendees are invited to see a wide array of GIK Acoustics products and talk with General Manager David Shevyn and Room Designer Lukas Rimbach.
---
About Prolight + Sound / Musikmesse Festival
Prolight + Sound is the sector's most important international meeting place for technologies and services relating to entertainment, shows and events, audio-visual systems integration and content creation. Come and join us!
Opening times: 2. – 5. April 2019: 10 a.m. – 6 p.m., on the Messe Frankfurt fairground.