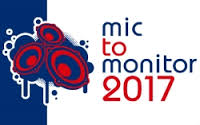 GIK Acoustics will participate in Prism Sound's Mic to Monitor lecture event in Dublin on 25 May 2017.
Prism Sound is delighted to be running this FREE seminar at the Windmill Land Recording Studios in Dublin in association with Big Bear Sound alongside fellow leading manufacturers SADiE, GIK Acoustics and PMC Speakers as well as our VIP guest speaker Rob Kirwan.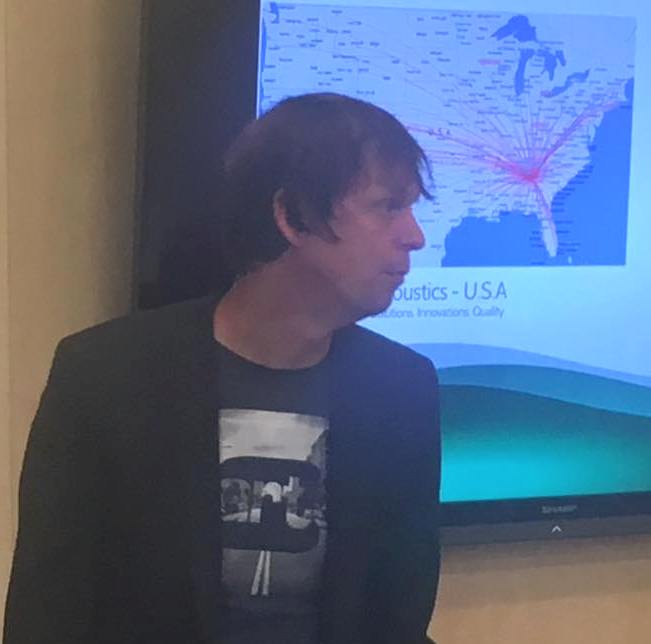 How do the pros do it?
What makes great gear great?
How is that hit sound achieved?
What does it take to become a successful and in demand engineer?
GIK Acoustics-Europe general manager, David Shevyn, will present a discussion on the importance of room treatments and the basics of room setup. Mr. Shevyn will also answer audience questions on room acoustics.
CLICK HERE TO REGISTER FOR THE FREE EVENT
WHERE: Windmill Lane Recording Studios
20 Ringsend Road
Ringsend, Ireland
WHEN: Thursday, 25 May 2017 from 6:00pm – 9:30pm
CLICK HERE TO REGISTER FOR THE FREE EVENT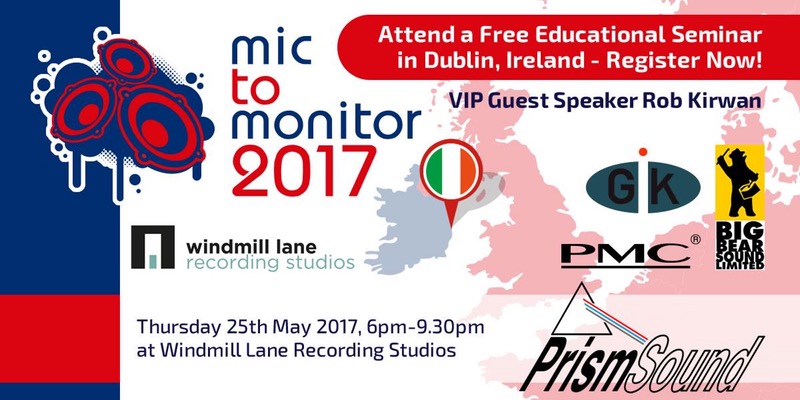 ---
Each seminar features presentations from recording professionals who will answer audience questions on recording techniques. Learn about audio hardware design, get the best out of your studio and talk to our VIP guest speaker as they personally take you through their mixes and reveal their tips and tricks to achieve their acclaimed, signature sound.
---
Special Guest Speaker – Rob Kirwan
Rob Kirwan is a record producer and mixing and audio engineer who primarily works from his studio in Central Dublin.
His exceptional engineering and technical abilities, strong ideas and creativity have enabled him to forge a successful career in music working with many diverse artists such as Hozier, PJ Harvey, U2, Depeche Mode, Editors, Bell X1 and Local Natives.
Rob produced and engineered the phenomenally successful and international award-winning self-titled debut album by 'Hozier' which reached No.1 in the Irish Charts, the US Top Rock Album Charts, US Top Alternative Album Charts and US Folk Album Charts. He also had a No.1 hit on the UK Album charts in 2016 with 'The Hope Six Demolition Project' by PJ Harvey. Both Hozier and PJ Harvey were nominated for a Grammy in 2015 and 2016 respectively. He also recorded PJ Harvey's Mercury Music Prize winning album "Let England Shake". Rob's work is regularly in the running for the Choice Music Prize in his native Ireland.
Rob believes that his key role as a Producer lies in the skill for identifying elements that make an artist sound individual, then enhancing those elements.
---
About Prism Sound
Founded in 1987, Prism Sound manufacture high-quality professional digital audio hardware and software for music and sound production for the music, film, television, radio and multi-media markets and a range of specialized measurement equipment used in audio equipment development, manufacturing, system building and maintenance. The company's product range includes a range of audio interfaces covering applications from desktop or mobile recording & production to major studio facilities; Prism Sound also produces the SADIE audio production workstation software used by major national broadcasters such as the BBC, as well as many of the world's leading mastering houses and classical or live music recording engineers. Prism Sound measurement equipment is used to measure the performance of either audio electronic devices or electroacoustic devices and is well established in major manufacturing sectors such as automotive electronics, headphones and headsets as well as professional audio.
For more information: www.prismsound.com