As part of the Clarity Alliance, GIK Acoustics-Europe will exhibit at The National Audio Show held at Whittlebury Hall in Northamptonshire from Saturday 19th to Sunday 20th September 2015.
UPDATE:
GIK Acoustics' General Manager, David Shevyn, will give two educational talks on the importance of room acoustics at the National Audio Show. Mr. Shevyn will present a discussion on the importance of room treatments and the basics of room set up as well as answer audience questions on room acoustics.
The free seminars will take place in the Vale Suite
Saturday, September 19 at 3:30pm GMT
Sunday, September 20 at 3:30pm GMT
We will have several products on display in the Priory Suite including our new Evolution PolyFusor. Introduced in July, the GIK Acoustics Evolution PolyFusor is a curved panel that smoothly transitions from a low-frequency bass trap to a mid- to upper-frequency diffusor.
The Evolution PolyFusor is a combination of a polycylindrical diffusor and an absorber merged into a single unit. Polycylindrical diffusors, or polyfusors, are known for their excellent dispersion characteristics over a very wide range. The curved front plate allows for virtually perfect spatial diffusion, while letting lower frequency waves pass through to the cavity of absorption behind.
GIK Acoustics-Europe General Manager David Shevyn says, "The Evolution PolyFusor is a great way to retain life in a space without creating unwanted glaring, smearing or other mix position horrors. And we're excited to bring this new product to The National Audio Show."
In addition to displaying products and chatting with customers, GIK Acoustics is giving each attendee the opportunity to sign up for a 10% discount on their next purchase.
---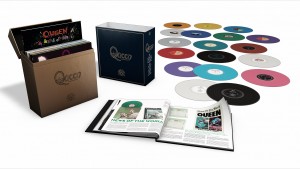 Clarity, in conjunction with Queen and Universal Music, is very pleased to announce the first UK public playback of "Queen: The Studio Collection" box set at 12 noon on the Saturday and Sunday of the National Audio Show. This is a fantastic opportunity for fans and audiophiles to hear the albums a week before they go on sale.
Five years in the making, "Queen: The Studio Collection" brings together the complete collection of 15 studio albums, re-mastered by the legendary Bob Ludwig and mastered for half speed vinyl cutting by Miles Showell at Abbey Road. Encased in a beautifully crafted box and complete with a lavishly illustrated 108-page book, featuring material from Queen's archive and the personal archives of Brian May and Roger Taylor, these classic albums are presented in the highest possible audio quality for die-hard fans and audiophiles alike.
Over the show weekend, attendees will enjoy the best in sound and high performance stereo systems and accessories with the opportunity to meet the designers, creators, editors and guest speakers from the industry.
Whittlebury Hall Hotel provides the perfect setting to showcase the state of the art in high performance audio products and is a host to a variety of attractions making the event a unique and relaxed experience for all to enjoy.
Over 50 demo rooms, top headphone brands, live music, competitions, guest speakers and special events – it's all at Whittlebury Hall from the 19th – 20th September.
National Audio Show tickets can be obtained via: https://www.chestergroup.org/nationalaudioshow/2015/tickets
About Clarity Alliance
The Clarity Alliance exists to help you get the very best home entertainment experience and to enable the UK's hi-fi and home cinema industry to work together to inform and educate consumers about the products it makes and the shops that sell them.
In the Luffield Suite at this year's show we'll be showcasing some of the Clarity members, who in turn will be displaying the latest products from their ranges for you to see. Staff will be on hand from each of the manufacturers to talk to you about the products and answer any queries you may have.