Product Description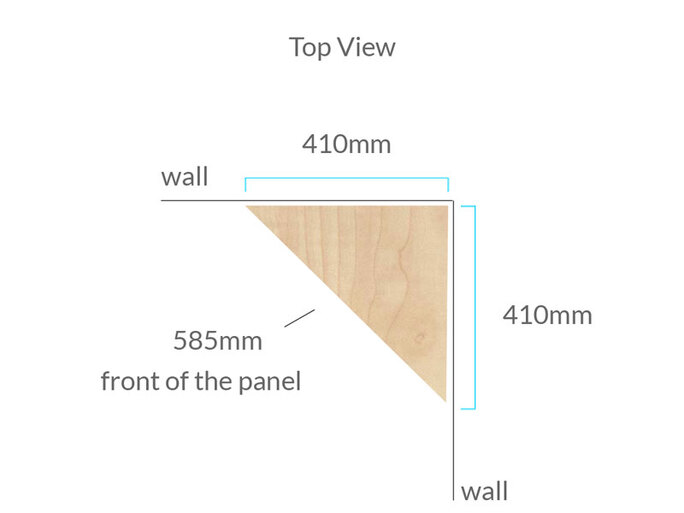 Overview
Retain liveliness in the room by scattering / diffusing the upper frequencies while absorbing mid and low frequencies.
Uniquely gives a smoother frequency response and decay time by not over-absorbing upper energy waves.
Our Impression Series Corner Bass Traps are constructed with a sturdy frame designed to fit into any corner. Traps are made of a solid core of eco-friendly absorption material, wrapped in your choice of fabric, and finished with a decorative semi-reflective plate which adds scattering for a professional sounding room.
Specs
Rigid rock mineral wool provides twice the low end absorption over similar foam-based products.
Top and bottom caps available in beech wood veneer, black veneer, or white veneer.
Thin plate has decorative design for spatial diffusion, but also allows low frequency waves to pass through to the rock mineral wool bass trap for low end absorption.
Comes with a screws option for safely hanging from the ceiling.
available in 9 standard GIK Acoustics Camira Cara fabric colours
additional Camira Cara or Camira Lucia fabric choices available

 absorption material.
Quality, hand-made construction and craftsmanship
585mm front face and 1000mm tall
Low end sound waves collect in corners where room boundaries meet. The amount of bass buildup in different corners can vary due to things like monitor and subwoofer placement as well as room structure. Corners should be treated with bass traps to temper low frequencies and sharpen bass.
Designed to fit in any corner, the Impression Series Corner Bass Traps – also known as corner sound absorbers – are stackable and freestanding. Impression Series Corner Bass traps are a stylish option for wall-to-wall corners as the low-profile fits snugly for full floor-to-ceiling coverage. Impression Series Corner Bass Traps can also be used in wall-to-ceiling corners or can rest horizontally in wall-to-floor corners.
Comes with a screws option for safely hanging from the ceiling.
Plates
Patterns